Slick Locks is a family owned and operated business in the USA located in the south suburbs of Chicago, IL. We strongly believe in the importance of supporting and preserving the manufacturing of our products here in the USA. All Slick Locks brackets are produced in Wisconsin, the Spinner 360™ in Indiana, and the Weather Shield™ in Pennsylvania. Our company believes in pursuing good old American ingenuity, and through the innovation of our uniquely designed products, we have been able to provide a high quality vehicle locking system unlike ANYTHING else available.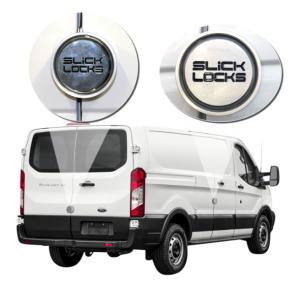 Slick Locks is truly the only drill free, pass between doors, stainless steel locking hasps on the market. Our cutting edge bracket designs have made us the number one choice of large fleet managers worldwide. Slick Locks offers a complete line of puck locks, Spinner 360's™, Weather Shield™ covers and blade brackets for all hinged and sliding door vehicles in all makes and models available.
Slick Locks revolutionary BLADE BRACKETS™ are custom engineered to fit each manufacturer's vehicle doors precisely. The patented stainless steel brackets bolt in place using the factory mounting points. They do not require any drilling through the vehicle body panels, unlike all of the other designs using hasp locks which require drilling a series of holes into the vehicle. This uniquely designed Slick Locks vehicle security system eliminates the typical corrosion problems caused by drilling and maintains the vehicle's values. By simply combining the Slick Locks Blade Bracket™, Spinner 360™, and Weather Shield™ with your Slick Locks Puck Lock, you will have the most advanced, one-of-a-kind vehicle locking system available today!
The Slick Locks SPINNER 360™ slip rings are specifically designed to be installed on each puck lock. To protect against tampering and insure further security to your puck lock, Spinners turn the locks into a rotating bearing that prohibits locks from being twisted off. It just spins! Spinners will remain on puck locks at all times using a stainless steel ring with a key way access hole for easy lock on and off usage. For your convenience, Spinners can be easily removed from the puck locks for routine cleaning and lock maintenance. By simply using the Spinner 360™ on your puck lock with the official Slick Locks Blade Brackets™, you will be instantly adding the most complete security protection for your vehicle available and ONLY from Slick Locks!
Premium quality Slick Locks PUCK LOCKS™ are constructed using heavy duty harden steel designed to provide the highest level of vehicle security possible. Our steel shank keys are much stronger and durable than the typical brass keys most manufacturers supply. By safely securing your vehicle with Slick Locks puck locks in combination with our patented Spinner 360™ and Weather Shield™, you will be fully equipped with the most preferred vehicle locking system on the market today!
Slick Locks patented WEATHER SHIELD™ is a cutting edge weather cover designed to protect your puck locks from dust, road grime, salt, and snow. It also keeps your lock from icing up on those cold wintery days. Slick Locks Weather Shield™ is made of rubberized flexible PVC that was specifically developed to fit tightly over Slick Locks Spinner 360™. The Weather Shield™ installed on the Spinner 360™ has a keyway access hole that allows for convenient, easy lock usage without ever having to remove the cover or spinners from the locks. The distinctively designed Slick Locks Weather Shield™ is the ultimate device in ensuring complete lock protection.
* Prices stated on manufacturers' websites are MSRP and subject to change, and may not reflect actual prices offered by Ladders Unlimited & Supply, Inc.. Please inquire for specific product pricing and installation options.