Ladder Racks for Cargo Vans – We stock and install products from the following manufacturers:
Manufactured locally, these stainless steel ladder racks are built to fit your cargo van correctly. Racks are available for Ford Econoline and GM Savana / Express. (Gutter mount vehicles only)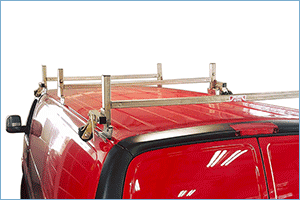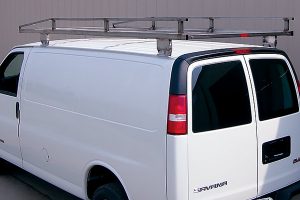 2 Bar or 3 Bar (Straps shown for additional cost)
Perimeter
Complete everyday tasks with world-class designs
Transport more tools, keep productivity high and lower the risk of injuries and worker compensation claims by installing the right ladder-rack solution. Prime Design's ergonomic, patented and award-winning solutions have helped business owners around the world eliminate or reduce the costs, stress and business pressures caused by work-related injuries.
Adrian Steel ladder racks are designed with ergonomics and user safety in mind. Whether you're upfitting a single van or an entire enterprise fleet, Adrian Steel has just what you're looking for! Take a look at our ladder rack models for cargo vans below.
Werner Steel Van Racks have a load capacity of 600 lbs. and include predrilled uprights. Cargo positioners and vinyl strips help to protect cargo while in transit. Made from steel in the USA.
Thule TracRac is an aluminum constructed van rack that helps to increase carrying capacity of up to 500lbs. Protect different size loads with the aluminum load stops that adjust to the full width of the van. Aerodynamic and quiet, and easily installs to the van rain gutters for quick installation.
* Prices stated on manufacturers' websites are MSRP and subject to change, and may not reflect actual prices offered by Ladders Unlimited & Supply, Inc.. Please inquire for specific product pricing and installation options.